Mexican cuisine food is favorite amongst many people and is served in many restaurants around the world. With its vibrant colors, various ingredient combinations, and bold flavors there is something for everyone, that even pick-eaters will love. Think tacos, queso dips, nachos, and Mexican street corn. And don't forget about delicious churros!
Whether you are hosting a party with lots of different options or would like to celebrate Cinco De Mayo at home with your family with simple guacamole, pico de gallo, and taco casserole - you'll sure find something to choose from this collection of 30+ easy Mexican style recipes.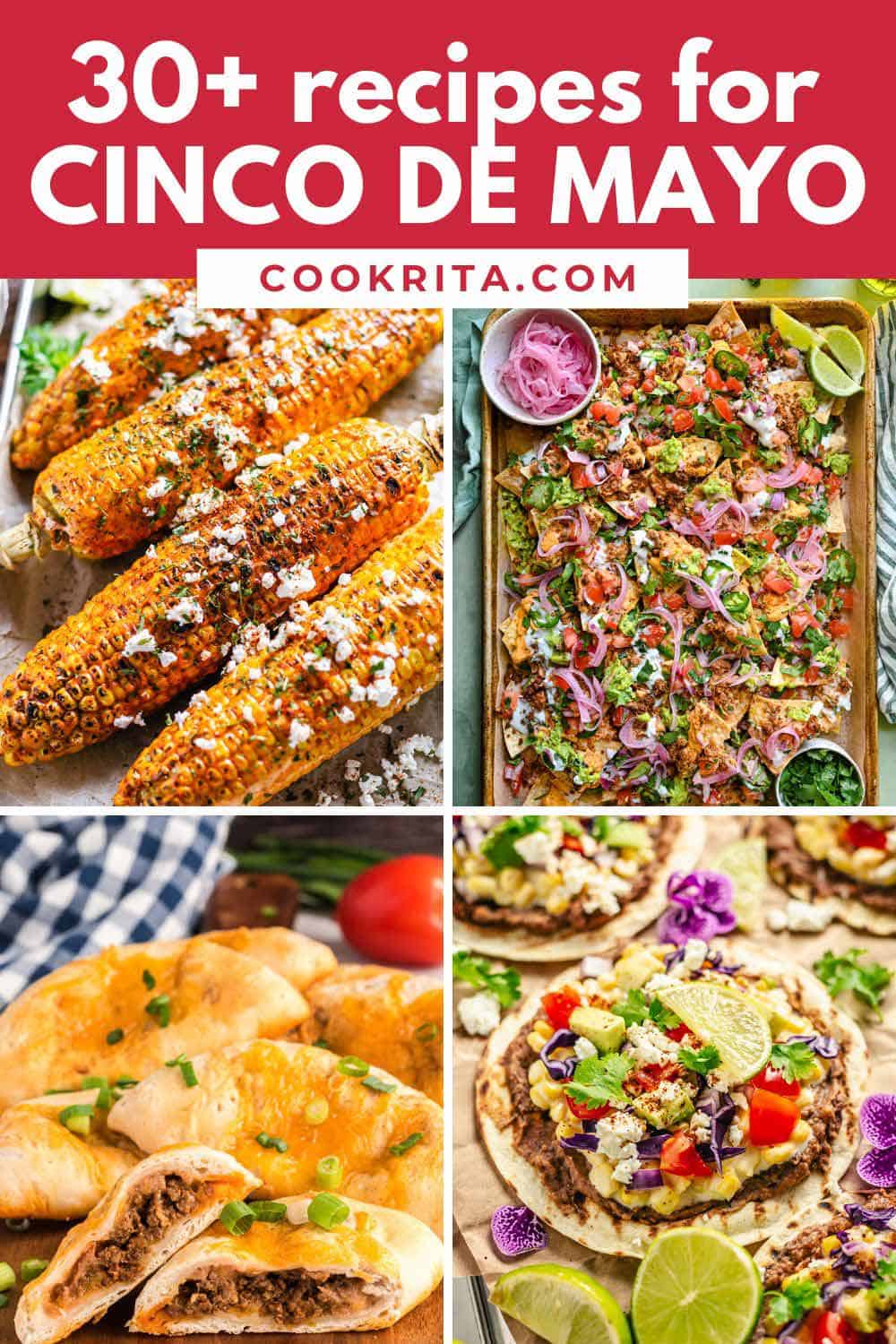 Best Mexican Style Recipes For Cinco De Mayo
Cinco de Mayo is not a national holiday in Mexico, but it has surely become a widely popular holiday across the United States as a day to honor Mexican culture and heritage.
During the ''5th of May'' celebration people gather for parties and attend festivals with traditional music, dancing, and lots of delicious Cinco de Mayo food.
Disclaimer: This is a collection of various recipes you can make for the Cinco De Mayo party. These are more Mexican-style recipes rather than authentic Mexican cuisine food. Enjoy!
Jump To
Cajun Corn On The Cob
Roasted Cajun corn on the cob is easy to make in the comfort of your home. Perfectly baked (or grilled, boiled) corn is dipped in a creamy cajun-mayo sauce, sprinkled with salty crumbled cheese, and is the best choice for large summer parties. Get the Recipe
Slow Cooker Pulled Beef
Perfect for summer potlucks, this slow cooker pulled beef recipe is made easily and turns out beautiful every time. Drizzle with barbecue sauce and serve in your favorite sandwiches. Get the Recipe
Chicken Fajita Pasta
This chicken fajita pasta recipe is loaded with all the good things. Tender and juicy chicken pieces cooked in scrumptious fajita seasoning and veggies. Add pasta, tomatoes with chilies and a little cream and you have a fajita pasta skillet. Get the Recipe
Black Bean and Corn Enchiladas
Delicious vegetarian enchilada recipe with a mix of beans, mushrooms and sweet corn. Crunchy on the outside and loaded with flavorful veggie filling inside. All this goodness is topped with Quick Enchilada Sauce and plenty of melted cheese. Get the Recipe
Mexican Churro Chips
Mexican Churro Chips are made with our secret ingredient to take them to the next level! They are perfectly crisped and full of the best churro flavor!
Recipe from Simply Scrumptious Eats
Air Fryer Nachos
Air Fryer Nachos are going to become your favorite party appetizer! If you are still cooking nachos in the oven it's time to switch to a no-fuss method that only takes you 5 minutes to make. Get the Recipe
Cheesy Refried Bean Dip
Creamy, cheesy, and so easy to make, this refried bean dip with cream cheese will be a hit at any get-together, gathering, potluck, or bbq!
Recipe from Mae's Menu
Fiesta Pinwheels
These Fiesta Pinwheels are so delicious and simple! Made with flour tortillas, cream cheese, salsa, sour cream and of course, shredded cheese!
Recipe from The Country Cook
3 Ingredient Guacamole
Simple Guacamole Recipe only uses 3 ingredients and takes about 5 minutes to whip up. Great for breakfast, salad, toast, burgers, snacks and dipping chips into. Get the Recipe
Hot Chorizo Dip
Chorizo Dip is a party must have! Loaded with chorizo, refried beans and cheese. Serve it hot with your favorite chips!
Recipe from Life's Ambrosia
Air Fryer Tortilla Chips
Crispy and flavorful, these homemade Air Fryer Tortilla Chips are a perfect appetizer for any occasion. Just a few minutes in the air fryer, and you'll have a batch of deliciously addictive chips!
Recipe from A Greatful Meal
Strawberry Salsa
This Strawberry Salsa is luxurious, sweet, and with a little hint of jalapeno. It is a great appetizer addition to barbecue table, summer parties, and simply great enjoyed on its own. Get the Recipe
Mexican Street Tacos
The best Mexican Street Tacos are made with chicken! This mouthwatering dish has all the delicious flavors and ingredients that we love - chicken marinated in aromatic spices, wrapped in soft tortillas, and topped with fresh, zesty toppings. Cook the chicken on the grill, pan or oven! Get the Recipe
Jalapeno Avocado Crema
This fresh and creamy Avocado Dip is loaded with flavor and will quickly become your new go-to low-calorie snack! Not only is it delicious, but it takes just 5 minutes to whip up. Get the Recipe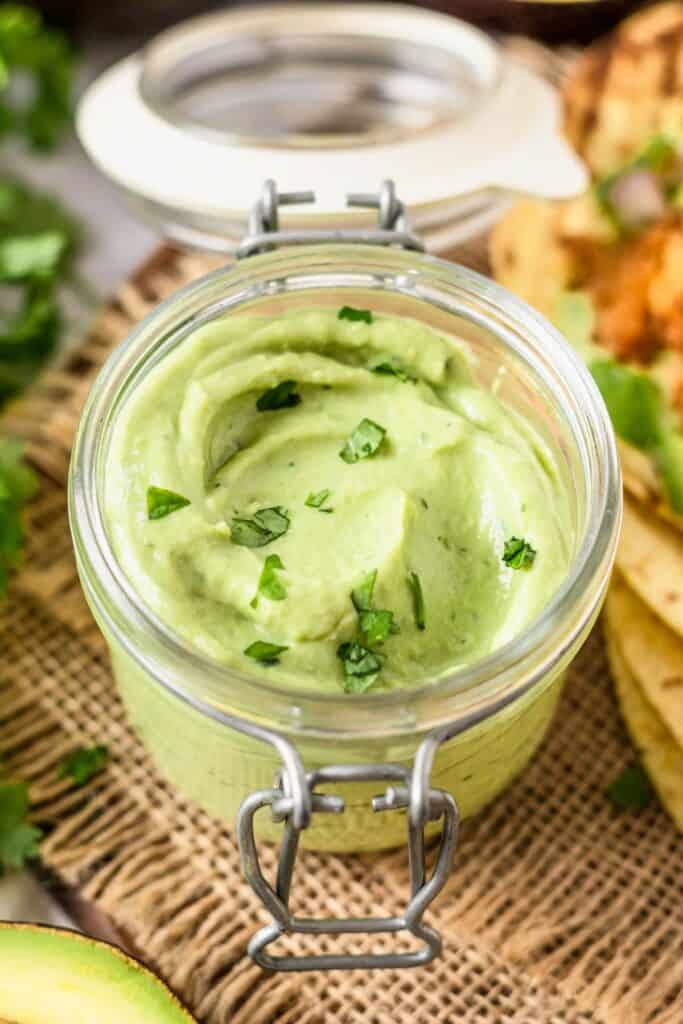 Lime Cilantro Rice
Presenting you a new kind of rice - Lime Cilantro Rice, with zesty lime and cilantro flavors, tender, fluffy rice makes a great side dish for a Mexican or Asian Dinner party. Use it as a side dish for baked fish, chicken, meat, or tacos and burritos. Simply delicious! Get the Recipe
Ground Beef Taco Salad
A protein-packed medley of fresh lettuce, juicy ripe tomatoes, savory cheddar cheese, crispy corn chips, topped with savory ground beef crumbles for a hearty and flavorful salad experience. Make a double batch of the refreshing tomato vinaigrette to drizzle over this ground beef salad and for many other dishes. Get the Recipe
Sheet Pan Veggies
Vegan sheet pan dinner has all the best in one pan-roasted golden and tender vegetables packed with nutrients and tossed in an incredibly flavorful marinade. This simple nourishing vegan meal is full of depth flavor and is one the whole family will enjoy (and not only vegans!). Get the Recipe
Mango Salsa
This Mango Salsa For Fish is bursting with plenty of flavors. Fresh and juicy, sweet, and spicy - it is the perfect addition to fish tacos or simply served with most of the seafood, tortilla chips, vegetables, as well as grilled meats. Get the Recipe
Restaurant Style Salsa
This easy and quick 10-minute restaurant style salsa uses canned tomatoes, green onions, garlic, cilantro, and extra seasonings for depth.
Recipe from Amanda's Cooking
Mexican Fiesta Black Bean Hummus
This Black Bean Hummus is so easy, and surprisingly delicious with just a few ingredients! Simply toss everything in your food processor, and you've got a unique Mexican bean dip that's perfect for Cinco de Mayo!
Recipe from Two Healthy Kitchens
Jalapeno Pineapple Salsa
This sweet and spicy jalapeño pineapple salsa hits all the right spots and is a great appetizer that you can whip up and serve in minutes. A handful of ingredients is all it takes, and you've got yourself a total crowd pleaser ready!
Recipe from Unique Cooks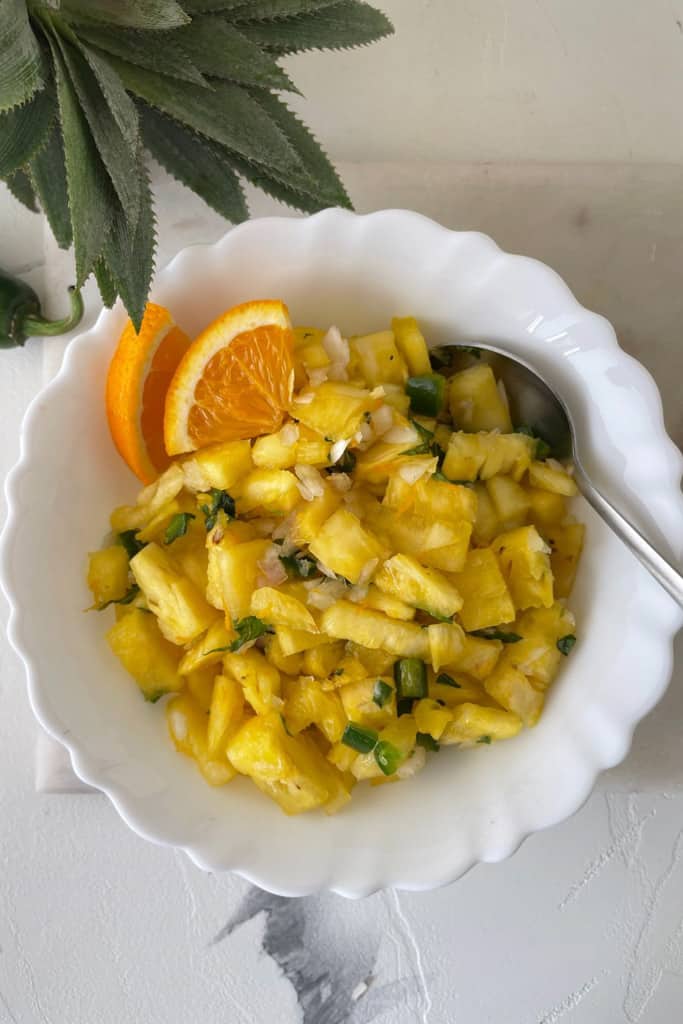 Slow Cooker Chicken Tinga
This chicken tinga recipe is a traditional Mexican dish made with shredded chicken in spicy tinga sauce that can be served in corn tortillas (or flour tortillas) or burrito bowls with fresh cilantro, Cotija cheese, creamy avocado, sour cream, and a squeeze of fresh lime juice. Get the Recipe
The Best Vegan Nachos
When you need a guaranteed crowd-pleasing appetizer, make these fully loaded vegan nachos! Tortilla chips get layered with vegan queso, taco meat, refried beans, guacamole, pico de gallo, vegan sour cream, and pickled onions for the ultimate nacho experience.
Recipe from Rainbow Plant Life
Grilled Margarita Wings
These grilled Margarita wings are the perfect combination of tangy and savory, with a tequila-lime marinade that will make your taste buds dance with joy! The touch of salt rounds out the flavor, just like in a classic Margarita cocktail.
Recipe from A Greatful Meal
Creamy Chicken Enchilada Casserole
This Creamy Chicken Enchilada Casserole recipe is incredibly delicious! Shredded chicken smothered in an utterly creamy sauce made with sour cream and one more delicious secret ingredient! Get the Recipe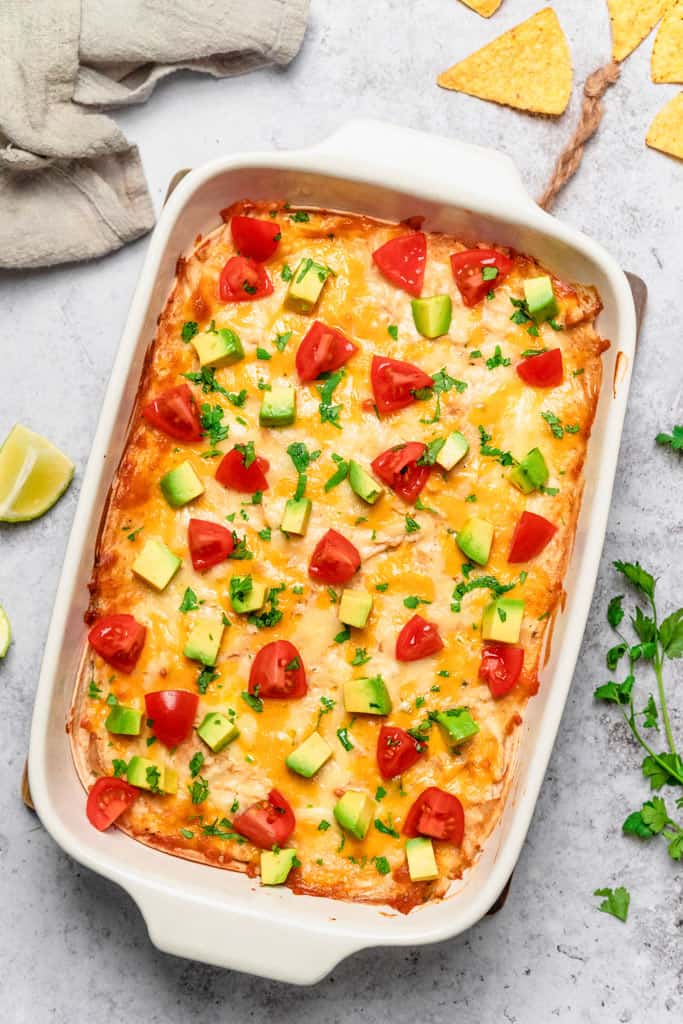 Easy Corn Salsa
The great thing about this EASY Corn Salsa is its flexibility! Make it with fresh, raw corn, or with grilled ... and if there happens to be any left over after you've dipped tortilla chips during appetizer hour, it transitions to a great side salad, too!
Recipe from Two Healthy Kitchens
Cheesy Chicken Enchilada Stuffed Peppers
Cheesy Chicken Enchilada Stuffed Peppers are a new twist on the classic stuffed pepper recipe. These perfectly baked peppers are loaded with enchilada chicken, rich red enchilada sauce, seasonings, plenty of cheese, rice, and of course beans. Get the Recipe
Drunken Serrano Salsa (Salsa Borracha)
If you love bold Mexican flavors you'll love this drunken serrano salsa (salsa borracha). This spicy, boozy salsa is loaded with fresh vegetables and goes well with a wide variety of dishes.
Recipe from The Seaside Calls
Skinny Watermelon Margarita
Easy 5-minute refreshing Skinny Watermelon Margarita Recipe for those hot summer evenings! Loaded with fresh watermelon, tequila, orange liquor and plenty of lime may about to become your new best homemade margarita recipe. Get the Recipe
Salsa Pinwheels
These gluten-free salsa pinwheels are a quick and easy appetizer made in under 15 minutes! Also known as tortilla roll ups, this creamy snack can be eaten cold from the fridge or baked and dipped in salsa. Perfect for kids and adults alike!
Recipe from Liv Gluten Free
Zesty 5-layer Bean Dip
Creamy, savory, cheesy, and spiced with taco seasonings, this Mexican bean dip is a hit at cocktail parties, get togethers, and on game day.
Recipe from Mae's Menu
Taco Empanadas
These taco empanadas are super easy to make, kid-friendly, and the perfect way to use up leftover taco meat. Sometimes the most simple meals turn out to be the absolute best.
Recipe from Amanda's Cooking
Mexican Street Corn Salad
This salad is an off-the-cob version of the popular Mexican street food, Elotes. With roasted corn, fresh vegetables and herbs, creamy mayonnaise, and Mexican-style spices, this easy prep salad is perfect as a side dish, meal prep, or snack! This recipe is gluten-free, and easily dairy-free or vegan.
Recipe from Liv Gluten Free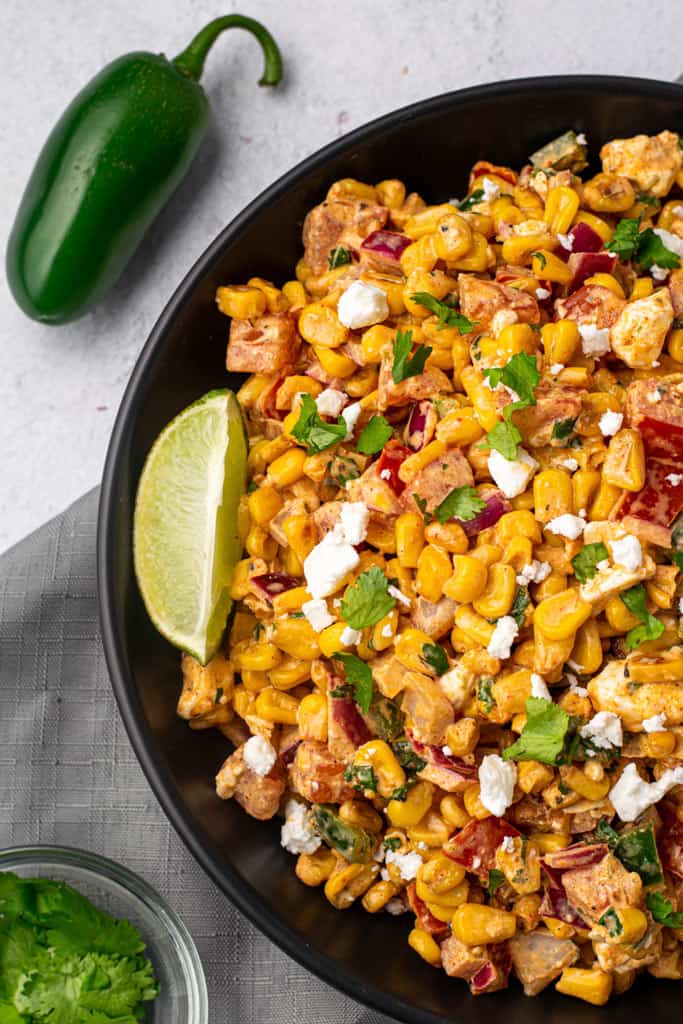 Easy Pico De Gallo
Easy Pico De Gallo - A Classical Mexican freshly chopped tomato recipe, that is almost an essential part of the Mexican-style dinner table. It takes minutes to whip up and is perfect to serve with tacos, quesadillas, tortilla chips, and garnish grilled meat. Get the Recipe
Grilled Vegetarian Tostadas
Easy and delicious grilled vegetarian tostadas are great to enjoy on their own or to accompany other Mexican food-inspired recipes. These tostadas are satisfying and loaded with refried beans, creamy corn, and your favorite tostada toppings. Get the Recipe
Strawberry Agua de Fresca
5 ingredients + water and 5 minutes is all you need to make this cold, thirst-quenching summer beverage. Strawberry-flavored ice water with lime and a hint of fresh chili is definitely the world's easiest drink to make during hot summer days. Get the Recipe
Queso Fresco
Making your own queso fresco takes maybe 10 minutes of active work, another 20 or so waiting, and only three ingredients. Three-ingredient cheese? Yes. It takes only three ingredients to make queso fresco and you likely have all of them in your house, right now. All you need is some milk, an acid like vinegar or lemon juice, and salt. That's it!
Recipe from Goodie God Mother
🤷Frequently Asked Questions
What is the most food eaten on Cinco de Mayo in Mexico?
In Mexico, Cinco de Mayo is not a popular holiday and is primarily celebrated in the Mexican state of Puebla, where the Battle of Puebla took place on May 5, 1862. When it is celebrated then Cinco de Mayo food will majorly depend on the region and its culinary traditions. Popular choices include tamales, mole poblano, enchiladas, and guacamole. And in the US: tachos, dips, nachos, enchiladas, and margarita cocktails.
What is the largest Cinco de Mayo celebration?
The largest in the world Cinco de Mayo celebration takes place in the historic Olvera Street in Los Angeles. Festivities include live music and dance performances, as well as carnival rides and games. And of course, good food from the numerous food vendors that line the streets.
What are Cinco de Mayo colors?
Mexican flag – red, white and green.
❤️Did you like this collection of Cinco de Mayo recipes? Please share in Facebook, Instagram or pin on your Pinterest board. Thank you!❤️